Fractal Architect 3 Help Index
Audio/video Utilities
---
Applies to:FA 3DFA 3D-AV
Creating a Video From Image Sequence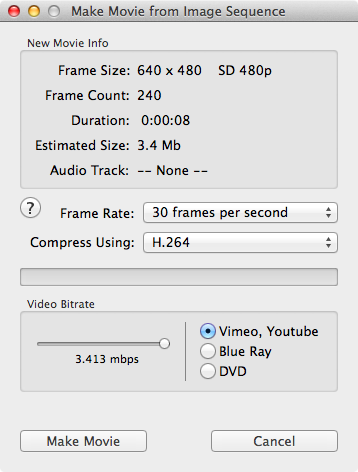 Use the menu item File > Convert Image Sequence to Movie to open the Make Movie dialog.
It will first ask you to open the folder with with a PNG or a JPEG image file sequence. After selecting that the Make Movie dialog opens.
Choose a Frame rate and Codec for creating the video.
Depending whether you want to target creating a video for Web, Blue Ray disc, or DVD disc, select the appropriate radio button. Adjust the Video bitrate. The output video file size is directly proportional to the video nitrate.
Click the Make Movie button to create the video.
Splicing Two Videos Together

Choose two files to splice then click the Splice Videos button.